How to Help/Donation
Your donations will help those in need with rent, utilities, food, prescription drugs, gasoline, and any other of life's necessities. No donation is too small.
Help us serve those in need.
Did you know more than 90 cents of every dollar received directly benefits our neighbors in need that we serve? We are able to do this at St. Vincent de Paul because of the generous support of our dedicated volunteers and donors. Your financial donation allows us to serve many Tarrant County families who come to us for help each year.

The Society of St. Vincent de Paul is an international non-profit Catholic lay organization whose members join together to grow spiritually by providing person-to-person service to the needy and suffering. We embrace all works of charity and justice, and make no distinction in those served, because in them we see the face of Christ.
The Society of St. Vincent de Paul serves everyone, regardless of creed, opinion, color, or origin.
Donating to the Society of St. Vincent de Paul is fast, simple and secure!

CLICK BELOW TO DONATE ONLINE TODAY!
You can mail either donations by check or donations by gift-cards to the following address:
Linda Campbell
Society of Saint Vincent de Paul
2608 Waters Edge Lane
Fort Worth, TX 76116
Donate your used vehicle: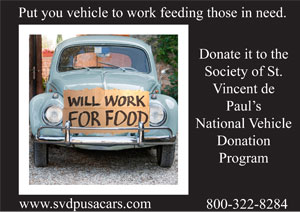 Donate your car and you will be offering hope one vehicle at a time.
One Car Help SSVdP
Will your employer match your gift? Corporate Matching Gift Programs.

Many companies have matching gift programs that will double your donation to qualifying charities. Check with your human resources department to see if your company participates in a program. If you or your company has any questions please contact us at 817-595-6520 x 401.
Society of St. Vincent de Paul is a non-profit 501(3)(c) organization. All donations are tax deductible. Please consult with your tax accountant for financial advice.
Countdown Clock
Would you like to add a North Texas Giving Day countdown clock to your nonprofit's website? We can hook you up!
We have added the clock to the Giving Day page on our Communities Foundation of Texas website. All you need to do is take the embed code below, and paste it into the HTML of your website:
For assistance on how to add this to Wordpress, Drupal and other platforms,
CLICK HERE
.